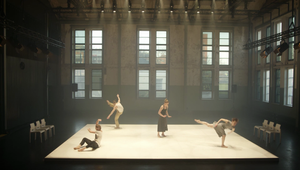 Theses of Deed (Teon Teesejä) is a contemporary dance work which was originally premiered in 2011. It's part of our long-lasting collaboration with Petri Kekoni Company. In 2017 I had the chance to refine my earlier composition work for the piece as Theses of Deed was "re-premiered" with partly changed cast and fresh thoughts.
Composing for Theses of Deed
As part of the composition process I dealt much with sounds of corporeal origins. Sounds of movemet, friction, physical acts and handling of all kinds of physical materials were used as source for the composition work to find connections between seen (on stage) and heard movement and events. One example of this is when I was watching the dancer move and created source materials in an improvised way at the same time. I was simultaneously drawing with a pencil and recording the sound of the pen moving on paper. Recordings were later edited and modified while still preserving the connection and proportions between these two corporeal acts.
As a pencil moving on a paper is a familiar and recognizable sound for all, listening the qualities of these sounds would also bring forth an experience of movement. The sounds of broad strokes, fast curves and rapidly winding movements of pencil would all translate into experience of movement through our body memory. We know how our hand would move and feel while making that kind of sound.
Sounds of recognizable corporeal origins seemed also to enable operating on a more physical level with dance. In this performance there were several layers of corporeal movement experienced at the same time. Part of these consisted of body memories the sound compositions would bring forth for audience and part of them were obviously created by dance and coreography.
The trailer below is from Theses of Deed rerun, performed in Circo Center for New Circus, Maneesi hall, Suvilahti, Helsinki, 4.4.2017.


Choreography and concept: Petri Kekoni
Music and sound design: Antti Nykyri
Lighting design: Matti Jykylä
Costume design: Monika Hartl
Dancers: Maija Kiviluoto, Tanja Illukka, Tuomas Mikkola, Riina Huhtanen.
Production: Petri Kekoni Company