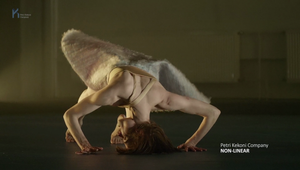 The trailer below is a compilation of two site specific dance pieces: Non-Linear – Dance Mass (2014) and Non-Linear – Jätkäsaari (2015). I was responsible for sound design and composition for both pieces. These works are part of our long-lasting collaboration with Petri Kekoni Company.
Composing for Non-Linear
The sound compositions consist of five overlapping segments composed for each of the stages and dance acts sharing the same industrial space. Interlacing and transposing of dance and sound/music made the piece as a whole, as visitors were able to roam in the space and choose how they perceived it. The overlapping of the auditory elements in different parts of the space, ways of diffusing sound around the reverberant space with special speaker systems and variations in how the parts overlapped were all considered and utilized as part of the composition process.


Choreography and concept Petri Kekoni
Sound design and composition Antti Nykyri
Lighting design Matti Jykylä
Costume design Monika Hartl
Dance Meeri Altmets, Riina Huhtanen, Tanja Illukka, Andrius Katinas, Maija Kiviluoto, Saku Koistinen, Tuomas Mikkola, Valtteri Raekallio, Esete Sutinen, Jukka Tarvainen, Terhi Vaimala, Ulla Väätäinen
Production Liikkeen puolesta ry / Petri Kekoni Company
Technical realization Sun Effects Oy
Set construction Rakennusliike Utriainen Oy
Costume makers Mervi Palo, Siru Juntunen
Graphic design Jukka Kuisma, Iasy Oy
Photography Tanja Ahola, Nanna Saarhelo
Video production Thomas Freundlich
Duration 100 minutes
Premieres: 
Non-Linear – Dance Mass: March 14th 2014, Kattilahalli, Helsinki
Non-Linear – Jätkäsaari: October 1st 2015, Jätkäsaari Stockhouse, Helsinki
Supported by Arts Promotion Centre Finland, City of Helsinki culture office, Sun Effects Oy