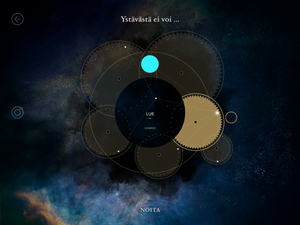 Antikythera is a tactile, generative and interactive audiovisual poetry artwork for iPad. It is based on the Antikythera mechanism, the ancient analog computer from c. 100 BC Greece, found in the Aegean Sea in 1900. It links together poetry, new technology, visual and sound art, and explores new forms and possibilities of digital narratives. Antikythera is based on poet Saila Susiluoto's overall idea and concept and includes over 200 poems written for the mechanism by her. It was published in 2015.
Sound design for Antikythera
The sound design for Antikythera is based on finding a meaningful connection between listening and reading. My aim was to enable an exploratory and associative mode of experiencing the piece. In order to support user's imagination the auditory and written components would need to have a dialogical relation to each other. Yet they would need to leave room for each other and the reader's mind to wander, so she/he could make associative connections between the read and heard.
Sound design for Antikythera has two basic modes of presentation: 1) Sounds for interface actions aim to enhance the tactile feel of using an ancient mechanism. This is achieved by using sounds originating from material sources. However the user interface has also a musical side to it. While operated the mechanism emits sounds which resonate and ring with frequencies which supplement the underlying ambient tune. The mechanism can be played in a musical way, as it's sounds blend to the musical components like single notes in a piece.
The larger part of sound design for Antikythera consists of 2) ambient tunes which combine soundscapes and musical components. For each of the six storyworlds in the application there is an ambient composition. In addition there is also a final composition for readers who have completed the whole piece. Each of the compositions have thematic but often quite abstract relationship to the poems. Some hints of era, surroundings and events are mediated through soundscapes, instrumentation and sonic events. Yet the sound design evades strict or illustrative connections to the poems. As the pace of reading and the advancement of compositions can't really be controlled, the exact moment of hearing a certain sound or musical gesture and reading a certain row of a poem is up to chance. 
Saila Susiluoto Idea, concept and script
Mika Tuomola Artistic director
Rasmus Vuori Systems architect
Shakti Dash Visualist
Antti Nykyri Sound design
Production company Taiste:
Mikko Harju & Kalle Ranto Software development
Valtteri Mäki & Ville Kaisla UI design 
Tuomas Jalamo & Oscar Salonaho Project management
Antikythera was supported by Kone Foundation, Promotion Centre for Audiovisual Culture Finland AVEK and The Arts Promotion Centre Finland.
More on Antikythera:
Antikythera: Tactile audiovisual poetry app for tablets. Proceedings of the 21st International Symposium on Electronic Art ISEA 2015 – Disruption. ISSN: 2451-8611. ISBN: 978-1-910172-00-1, 2015.